Obstacle Course Rental
Click Here to Call Us:5049146489
We are the largest company offering Obstacle Course Rental services in and around our community. we care about our customers and their satisfaction. This is why we make sure to provide them with a wide range of Obstacle courses near me to choose from when they come to us. We are constantly updating our inventory to carry some of the biggest and best options that will add fun to your event. We offer Obstacle course rentals to customers for all events including church parties, school parties, birthday parties, corporate events, and other events. Rest assured that we aim to deliver the best in terms of service quality and that is why we make sure that all of our obstacle courses are cleaned and disinfected after every use. We make the experience fun for customers by offering them free overnight use as well as free delivery services. Our team here is ready to work with you to make sure that you get your needs sorted.
We have a wide array of obstacle courses for you to choose from. Some of the options that we offer include 35 ft Radical Run Caution Obstacle course interactive, 40 ft obstacle course HEC, 40 ft obstacle course HEC, 60 ft obstacle course 17ft tall rock slide, 60 ft radical run caution obstacle course interactive (7 elements and rock climb), 65 ft radical run caution obstacle course interactive (35 ft. obstacle and 7 element obstacle), 65 ft radical run caution obstacle course interactive (35ft and rock climb), and more. Here at About to Bounce Inflatable rentals, we are focused on creating a fun experience for all of the members of the communities that we serve. We have been in the industry for years and we have been able to create a reputation that precedes us.
Obstacle Courses Near Me
We make sure that all of the Obstacle Courses Near Me that we offer for rent are clean and disinfected after each use to protect customers. We offer a range of perks in addition to the services that we offer. Some of these perks include free delivery services to customers located in and around the areas that we serve. Some of the areas qualified for the free delivery service on Obstacle course rentals include the greater New Orleans area, Algiers, Ama, Arabi, Avondale, Belle Chasse, Boutte, Chalmette, Des Allemands, Destrehan, Gretna, Hahnville, Harahan, Harvey, Jefferson, Kenner, Luling, Marrero, Meraux, Metairie, New Orleans, Norco, Paradis, River Ridge, St. Rose, Terrytown, Violet, Waggaman, and Westwego. We also offer free overnight use to customers meaning that they won't have to pay an extra fee for having the desired obstacle course on their property overnight. we are committed to bringing fun to all parties and events, reach out to us.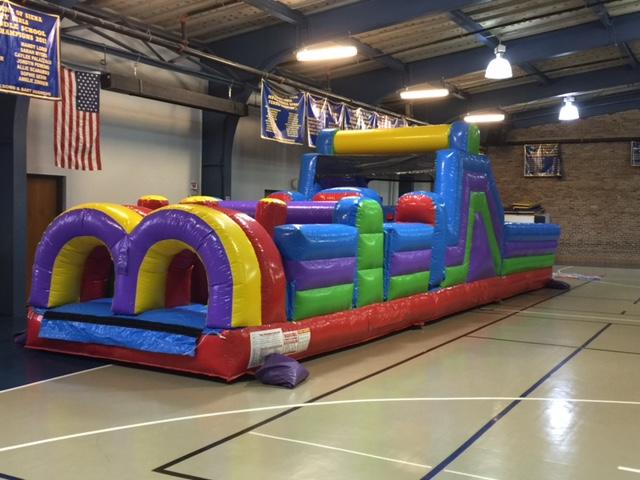 Obstacle Course Rentals
When you come to us for Obstacle Course Rentals, you will also be able to choose from options like Connect a hot basketball shooting game, dunk tank, bungee pull 4 persons, bungee run, football, football toss, golf game, hula hoop toss game, human wak-a-mole, inflatable skee ball carnival game, IPS interactive arena game, IPS interactive cones, IPS light vest game, IPS Sports Arena, IPS shooting game, and more. Here at About to Bounce Inflatable rentals, we take pride in being one of the largest rental companies providing inflatable interactive rentals. We have been in business for years and that has allowed us to develop a great sense of commitment towards meeting the needs of the members of our community. rest assured that customers who come to us for Obstacle course rental will find a large selection of options to choose from because we care about their satisfaction.
We are constantly increasing the number of inflatable relatable items that we carry so that we can better meet the needs of our customers. Customers can come to us for Obstacle courses near me, sports games, interactive game rentals, and more. We offer a wide range of options including jousts and boxing rings. Customers can also experience bungee runs, wrecking balls, and Zorb-hamster balls. We have a team that is ready to work closely with each customer that comes into your establishment to make sure that they get the best selection as well as the best services. As part of the rental options that we offer, you can enjoy our Velcro walls that are big and perfect for all kinds of events, whether you are planning a birthday, school event, corporate parties, or others. We also provide pony hops derby that allows a total of 4 players to enjoy a game they'd fall in love with.
About to Bounce Inflatable rentals
909 South Al Davis Road, New Orleans, LA 70123
5049146489
https://www.abouttobounce.com/category/interactive_sports_obstacles/