Adventure Park
KidRush Adventure Park
Our KidRush Adventure Park was designed to be just like our main TreeRush adventure Park but in a smaller way so that children who are between 4 and 6 years of age can have a great time in a safe way. Some of the great features that your little ones can enjoy here include: Trails We built two fun trails for our youngest guests to have an amazing time in our Adventure Park. These trails are just a few feet from the ground, ensuring the safety of the little ones while they also get to feel how much fun it is to climb trails!
Action Park
A Great Adventure Park For The Whole Family Are you looking for a wonderful place to take the whole family? Perhaps you have never tried aerial trails and zip lines before and would love to…if that is the case, you have to come visit us at TreeRush Adventures at Fontenelle Forest. Our Action Park sits 6 acres big and easy to get to since it is just north of the Fontenelle Forest Nature Center in Bellevue Nebraska. You will be happy to know that we have two main attractions for adults and kids as young as 4: TreeRush Adventure Park and KidRush Adventure Park.
Zipline Park

TreeRush Adventure Park
Our Zip Line Park is what most of our guests come here for, and anyone who has ever been here will tell you that you can enjoy 10 incredible zip lines that will allow you zip through the sky from one place to another! But before you get to our impressive zip lines you have to start your adventure by climbing our impressive tree platform; you can then choose from one of 7 aerial trails that have been designed with varying difficulty; guests of all skill levels will find a trail that is right for them. Our trails will take you to 100 challenging elements made of rope, cable, and wood for an even better adventure! We recommend TreeRush Adventure park for guests from age 7 to adults. KidRush Adventure Park If you happen to bring kids that are from 4 to 6, they will simply fall in love with our KidRush Adventure Park. This Adventure Park resembles our main attraction but features trails that are close to the ground so that the little ones are safe at all times. There are two trails that your younger kids will enjoy here.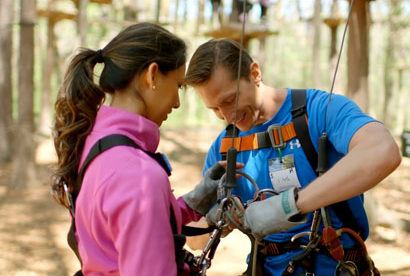 Contact Us if You Need Adventure Park
Book An Adventure You can call us at (402) 316-7038 to book an adventure and talk to us about any questions or concerns that you might have. We can also accommodate birthday parties and group outings!
TreeRush Adventures at Fontenelle Forest
1111 Bellevue Boulevard North, Bellevue, Nebraska 68005
402-316-7038
https://treerush.com/